SOURCE: Jo Nova
The 15 Minute City is a UN and WEF plan, because they care about you want you to drive less.
A cartoon from the WEF just for you good girls and boys: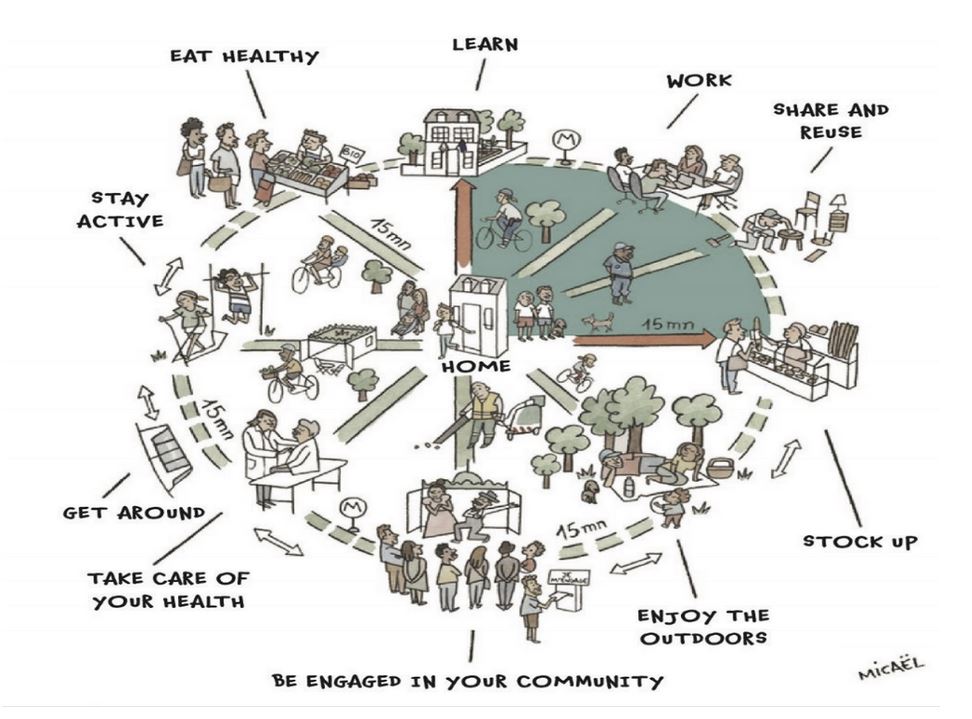 In the WEF's own words — this rearrangement of cities is absolutely about climate change:
As climate change and global conflict cause shocks and stresses at faster intervals and increasing severity, the 15-minute city will become even more critical.
And the solution was the pandemic (they really say that):
The obvious, yet incomplete, answer is the pandemic…. with COVID-19 and its variants keeping everyone home (or closer to home than usual), the 15-minute city went from a "nice-to-have" to a rallying cry. Meeting all of one's needs within a walking, biking or transit distance was suddenly a matter of life and death.
And then the dark hand of the totalitarian managers appears, as James Woudhuysen, warned in Spiked in late October:
The green agenda is taking inspiration from the illiberal days of lockdown.
To this end, Oxfordshire County Council, which is run by Labour, the Liberal Democrats and the Green Party, wants to divide the city of Oxford into six '15 minute' districts. In these districts, it is said, most household essentials will be accessible by a quarter-of-an-hour walk or bike ride, and so residents will have no need for a car.
On the surface, these 15-minute neigbourhoods might sound pleasant and convenient. But there is a coercive edge. The council plans to cut car use and traffic congestion by placing strict rules on car journeys.
Residents will have to register their cars with the council and they will be tracked to count their journeys through the key gateways. It's the social credit scheme that starts with your car and works like anti-frequent-flyer points.
Under the new proposals, if any of Oxford's 150,000 residents drives outside of their designated district more than 100 days a year, he or she could be fined £70.
The concept of the 15-minute city was born with 'C40'. Chaired today by London mayor Sadiq Khan, C40 calls itself a 'network of mayors of nearly 100 world-leading cities collaborating to deliver the urgent action needed right now to confront the climate crisis'.
Climate lockdowns? Seriously?
It all sounds a bit ridiculous to suggest a lockdown "for the climate" but listen to the BBC. They're working awfully hard to persuade us — they obviously think voters won't want this. Here they are connecting the "15 Minute City" to the fun of covid lockdowns, and setting this up as though it's totally normal for the government to decide who your friends are:
And furthermore lockdowns in Paris were great social moments where we all made friends. Who knew how much fun it would be to be told you couldn't drive far?
.. for Fraioli, the two-month lockdown that began on 17 March – confining her to a 1km radius of her home – gave her a nuanced, enriching view of her neighbourhood. "I discovered it's possible to feel like you're in a small village in Paris," she says. "To get to know your neighbours, to maintain good links with shopkeepers, to favour local craftsmen and shops over large supermarkets. I even joined a citizens' movement where people prepare food baskets for homeless people. I thought I would have a hard time living the lockdown, but I was perfectly at home, in a quiet place."
I don't seem to recall "getting to know neighbours" as being part of any lockdown anywhere?
And lookout — the 15 minute city is not just Oxford, but turning up in Brisbane, Melbourne, Barcelona, Paris, Portland and Buenos Aires. It's everywhere.